Cadillac Lyriq Interior, Range & Specs

The Cadillac Lyriq is an all-electric luxury SUV. It marks the first foray of Cadillac into the electric vehicle market; as one may expect, the company hit it out of the park. The Lyriq is refined, spacious, and sporty at the same time. It is built on GM's new scalable electric vehicle chassis that allows the car to charge quickly and perform admirably.
On this page, we'll detail the performance specs, range, and luxurious interior of the new Cadillac Lyriq. This exciting vehicle is part of a new wave of all-electric cars; we're thrilled that we get to watch the future unfold in real-time.
Cadillac Lyriq Specs
---
The Cadillac Lyriq specs differ depending on which model of the vehicle you purchase. There are two configurations available. The base model sports a single motor that powers the back wheels, meaning it's a rear-wheel-drive variant of the car. The upgraded version features a pair of motors, one on each axle, which has all-wheel drive.
The rear-wheel-drive model gets 340 horsepower, which is really something. This outstrips many conventional internal-combustion driven vehicles, and it's only the entry-level trim. The all-wheel-drive model gets a whopping 500 ponies, which will let you zip down the road past even the sports cars. Cadillac Lyriq 0 to 60 times are still being compiled, so it's hard to determine exactly how fast this vehicle is. One report, however, notes that it can hit 60 in fewer than four seconds.
One reason that the Cadillac Lyriq specs are so impressive is, simply put, that it's an electric vehicle. All-electric cars have several advantages over traditional ones. They can immediately output their power instead of shifting through gears. They also feature regenerative braking, which sees the motors act as small generators to recharge the battery when you brake. There are a number of differences between electric vs. hybrid cars.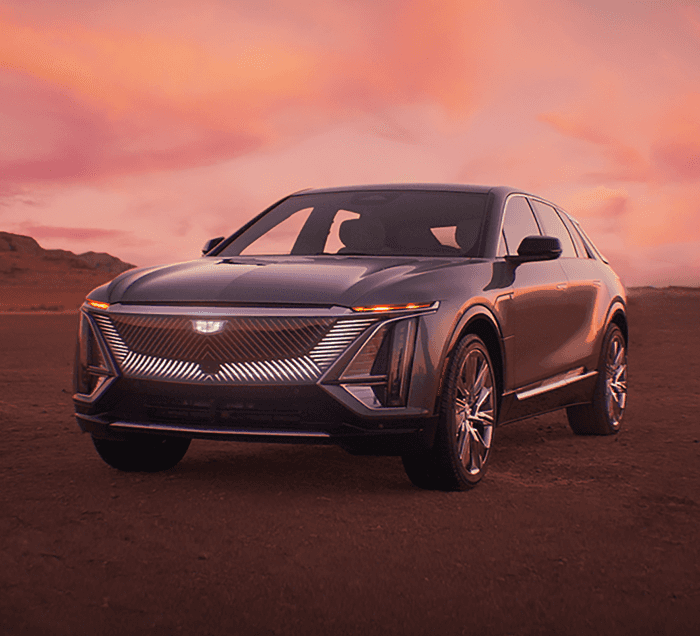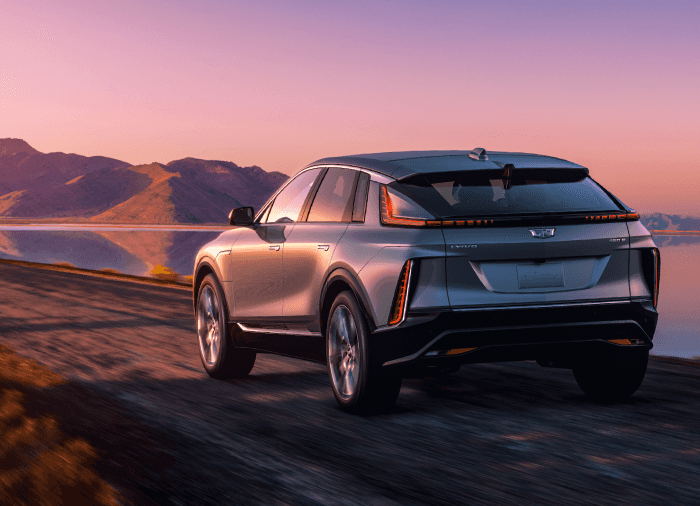 Cadillac Lyriq Range
---
The Cadillac Lyriq range is made possible by a 102-kWh battery that pairs with the single- or dual-motor propulsion system. The single-motor rear-wheel-drive model is supposed to get an EPA-estimated 312 miles of driving range on a single charge.1 As of this writing, the dual-motor version is still undergoing EPA testing to get its range rating.
If you're planning a long trip in your new Cadillac Lyriq, you won't have to worry about long charge times whenever you hit a new state and need juice. At one of the many public DC fast-charging stations around the nation, you can get about 72 miles of charge after just 10 minutes of being plugged in.2 The vehicle is also ready for Cadillac Lyriq home charging. The Cadillac Lyriq range is impressive and will keep you traveling across the country without a hitch. If you would care to find out more regarding the capabilities of the Cadillac Lyriq, check out our Cadillac Lyriq vs. Tesla Model X comparison.
Cadillac Lyriq Interior
---
The Cadillac Lyriq interior is laden with luxury. Open-pore wood trim sits alongside sleek metallic brightwork to create a premium interior aesthetic. The glass roof with a powered sunshade will allow natural light to bathe you and your passengers when you see fit, while the Active Noise Cancellation technology will see you enjoy music without any interruptions.
The Cadillac Lyriq interior also plays home to incredible new technology. The available Super Cruise assisted driving technology is often hands-free; it can execute lane changes and help you and your family stay safe on the highway. It is joined by automatic emergency braking, pedestrian detection technology, lane-keeping assist, lane-departure warning, and more.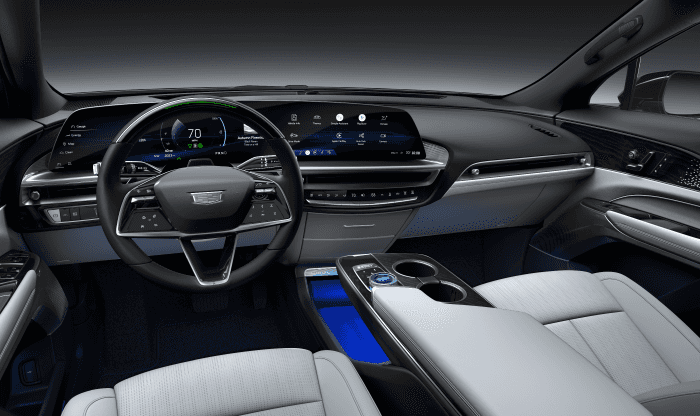 Start Driving a Cadillac Lyriq
The new Cadillac Lyriq SUV is a vehicle out of the future. The bold design of its front grille will attract attention everywhere you take it. You and your family will be thrilled as you pass by gas station after gas station without ever having to stop at the pump.
Our dealership is a premier destination for your new all-electric Cadillac vehicle. We offer competitive financing and friendly service. Visit us today to reserve or perhaps even test drive the new Cadillac Lyriq.
FAQ
Does Lyriq have 3 rows?
The new Cadillac Lyriq has two rows of seating, which can fit five passengers. Everyone will be comfortable in this new luxury vehicle's spacious and well-appointed interior. This new SUV is the first all-electric Cadillac; we do expect that there will be a three-row electric vehicle from Cadillac in the near future.
What is the range of a Cadillac Lyriq?
The EPA-estimated range of the rear-wheel-drive Lyriq model is 312 miles.1 The government is still testing the all-wheel-drive model; we expect this number to come out near 300 miles as well. Either of those ranges is more than enough to run errands all over town without having to worry about power and even to get out of state on a single charge.
How fast is the Cadillac Lyriq?
The top speed of the rear-wheel-drive version of the Lyriq is roughly 118 miles per hour, while the all-wheel-drive model is expected to hit about 130 miles per hour. You'll have to hit the track to test this out, but you'll have a great time when you do. This all-electric vehicle boasts wild acceleration, reportedly hitting 60 in about four seconds.
---
---
1EPA estimated. Actual range will vary based on several factors, including temperature, terrain, battery age, loading, use and maintenance.
2Actual charge times will vary based on battery starting state of charge, battery condition, output of charger, vehicle settings and outside temperature. See the vehicle's Owner's Manual for additional limitations.