All We Know On The Cadillac Escalade V Series

Though it's just a quad-exhaust prototype at the moment, the Cadillac Escalade V series could soon add a super-powered SUV of the future that fans of big cars have been waiting for. If you've been on the hunt for an SUV model that's ready to add even power into the mix, make sure you have the Cadillac Escalade V on your radar.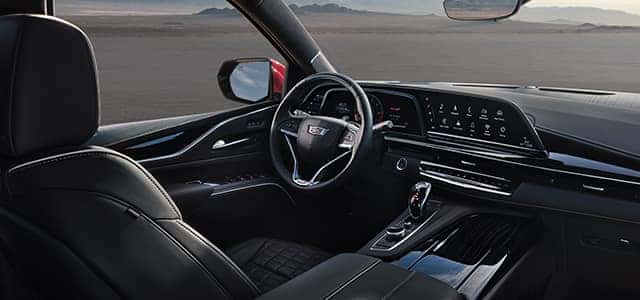 Sample Our Cadillac Escalade V Series Soon and Never Look Back
If the Cadillac Escalade V comes to the forefront in the upcoming year, it will join several elite Cadillac Escalade SUV models in the lineup. GM's new Ultium battery can be found in the electric Cadillac Escalade SUV, and current Cadillac Escalade models come with a turbo-diesel 3.0-liter inline-six engine or a 6.2-liter V-8 engine.
Our first-class fleet of new Cadillac Escalade for sale SUV models garner a ton of interest when new customers come into our showroom. Families that want to travel everywhere in a cabin full of premium materials with plenty of space to stretch out will love the graceful gait of this SUV.
If you've been dreaming of a supercharged Cadillac SUV, make sure you get in contact with your local Cadillac showroom and tell them you'd love to know as soon as they have updates on what's coming from the Cadillac Escalade family. No matter which trim you choose, you'll love being able to spread your wings in such a magnificent and modern large-scale model.
Don't worry if you've never experienced a large car that handles as smoothly as any race-track-ready option out there. You'll love the new Cadillac Escalade ESV for sale and immediately feel right at home. This particular trim level proves that fuel-efficient and environmentally-conscious driving options can still produce all of the grit you're looking for.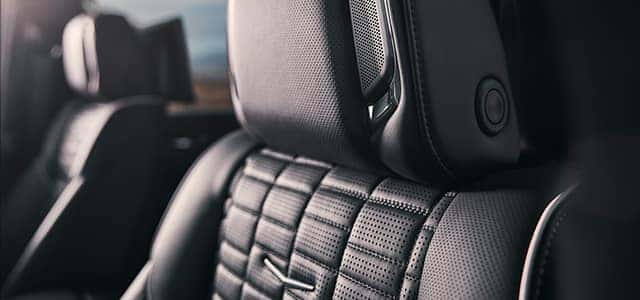 2023 Cadillac V Series Interior Upgrades For the Escalade
The 2023 Cadillac V Series interior is loaded with high-end luxuries to complement the high-performance fun.
The Escalade-V interior naturally shares the same specs and features as its (relatively) tame Escalade siblings. But, it'll include most of the showcase optional features as standard benefits. Said features include a signature 38-inch curved OLED display, augmented reality navigation views, a night vision system, a head-up display, and Super Cruise™ semi-autonomous driving capabilities.
The immersive AKG® Studio Reference sound system with 36 speakers comes standard and enhances passenger conversations with built-in microphones. Air-ride adaptive suspension provides a butter-smooth on-road experience, and in the front seats, you'll enjoy 16-way power adjustability, heating, ventilation, and a backrest massage.
Premium semi-aniline leather upholstery, Zebra Wood trim, and a picturesque Panoramic UltraView® sunroof make every seat the best seat in the house. Every seat is also a safe seat, as the Cadillac Smart System safety features come standard, along with upgraded assistance like the Enhanced Automatic Parking Assist.
The Escalade-based 2023 Cadillac V Series interior upgrades are rich, and more details are still on the horizon.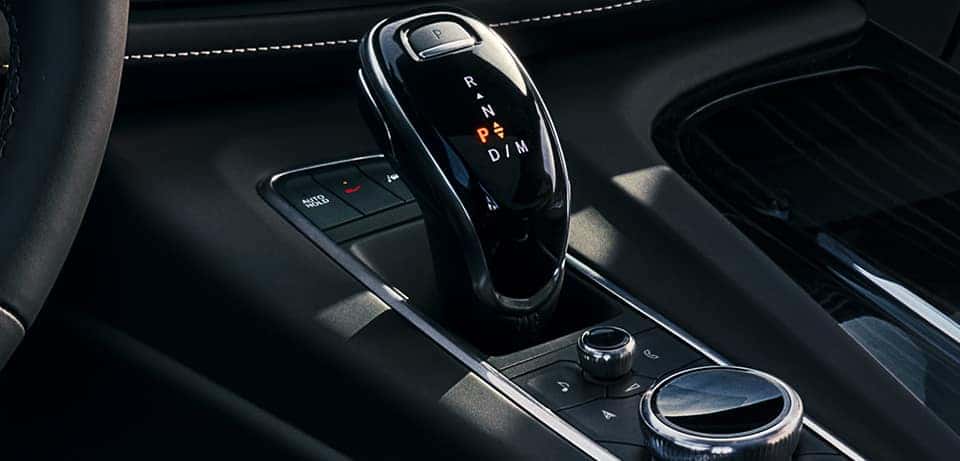 The Seat-Pinning 2023 Cadillac Escalade V Horsepower & Specs
While driving the Escalade-V is a dreamy experience, this monster will bring you back to reality with the push of a pedal. The seat upgrades are almost necessary, as merely tapping the gas will result in you being thrown back into them.
The 2023 Cadillac Escalade-V horsepower is made possible by a fan-favorite engine. You may have seen it in the astounding CT5-V Blackwing; it's a hand-crafted 6.2-liter supercharged V-8 engine. But, for the Escalade-V, this wicked powerplant gets several adrenaline-pumping upgrades.
The supercharger is larger. It screams to a jet-like 13,500 rpm, shoving 10 pounds of boost into the engine. The engine receives forged steel, forged aluminum, and even titanium components. A specially-tuned 10-speed automatic transmission lays the power down through a standard all-wheel drive layout.
The result is an astonishing 682 horsepower and 653 pound-feet of torque. 0 to 60 mph runs happen in an estimated 4.4 seconds, and quarter-mile runs finish in an estimated 12.7-seconds at 110 mph. Equally-strong stopping power comes courtesy of six-piston Brembo® front brakes. With the option to lower the suspension and open up the exhaust valves, you can optimize the 2023 Cadillac Escalade V horsepower to take down the toughest competition.
Frequently Asked Questions About the 2023 Cadillac Escalade-V
How fast will the Cadillac Escalade V be?
The 2023 Cadillac Escalade-V will shatter full-size three-row SUV speed records. It uses a hand-crafted 6.2-liter supercharged V-8 engine to lay down 682 horsepower. It'll explode from 0 to 60 mph in an estimated 4.4 seconds and roar on to an estimated quarter-mile time of 12.7-seconds at 110 mph.
What is a Cadillac Escalade-V?
The 2023 Cadillac Escalade-V combines a specially-developed 6.2-liter supercharged V-8 engine with a roster of adrenaline-pumping features to dominate the competition. But, it also is set to offer all the showcase luxury features of the "normal" Cadillac Escalade to create a high-performance, high-end SUV experience like nothing else out there.
How much horsepower will the 2023 Escalade-V have?
The 2023 Cadillac Escalade-V horsepower output is derived from a hand-crafted 6.2-liter supercharged V-8 engine. It makes 682 horsepower and 653 pound-feet of torque, offering you more power than any other full-size SUV.
Feel the High-Performance Purr of a Performance Cadillac SUV
While Cadillac has not officially commented on if a recently-seen prototype is the newest member of the Cadillac Escalade V series, online car reviewers are delighted by this potential addition. Fans of this big-time bruiser are always excited about the possibility of another SUV MVP joining the fold. Drivers in our area have already begun asking about the cars that are on their way from General Motors and which models we anticipate making a big splash in 2022.
Do you want to add some powerful performance to your daily driving without committing to a single car? You should sign up for one of our Cadillac Escalade lease offers. Our flexible leasing opportunities give you a chance to get one of the most requested cars in the entire GM portfolio on your own terms.
We believe in having the best cars available for drivers that want to make the most out of every mile at our dealership. Regardless of whether you want a short-term lease or need a vehicle built for the long haul, we're confident we can find a match for you at our store today. If you're chomping at the bit to get started yourself, check out the SUV models we have in stock right now by browsing our online inventory.
We actively update our inventory with additions of new and used models like the Cadillac Escalade. You'll love how the Cadillac Escalade supercharged engine provides some extra oomph that you can tap into at any time. Less than ideal weather conditions or rough roads won't slow you down, and everyone inside the cabin will remain oblivious to the sounds and chaos of the outside world. When the clouds clear, you can open up the panoramic sunroof and enjoy the warmth as well.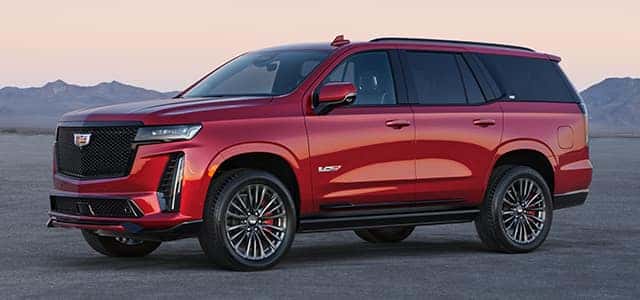 The Cadillac Escalade V Series Is Ready for Prime Time
Drivers who want to get into a big car that will exceed their expectations should contact our showroom. Our team will be able to introduce you to all of the Cadillac Escalade models we currently have in stock and let you know if there are any new additions you should expect to see in our online inventory soon.
They're the perfect people to answer your questions about the Cadillac Escalade V series, and they'll be the first to know if the Cadillac Escalade prototype that has the internet buzzing will be arriving in the coming year. They can even explain the differences between our Cadillac Escalade models, and help you determine which features you have to have and which ones you want to leave behind in your current car.
You don't have to settle for an SUV that can't reach back for more. Whether you need additional space for cargo and passengers or want a hearty hauler that responds well when you push down on the pedal, the lineup of all-stars in the Cadillac Escalade V series will always answer the call.
---
---
Cadillac Reviews In Lexington, KY